Partners & Venues
A heartfelt thank you to our partners
who make a difference in the lives of children in need.
Partners
Our partners are vital to helping Kind to Kids fulfill its mission of helping children in need. With the generosity of our contributors, we bring joy to underprivileged children.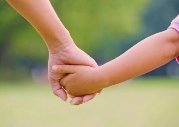 Kind to Kids partners range from major foundations and corporations to family owned local enterprises and individuals. Each donation is important to Kind to Kids, and enriches the lives of deserving children.
If you would like to contribute to Kind to Kids, or sponsor a program or event, please contact Caroline Jones, Executive Director, at (302) 654-5440 or email carolinejones@kindtokids.org.
Grants
Kind to Kids is grateful for grant funding which helps to sustain our efforts for underprivileged children. These organizations enable Kind to Kids brighten the lives of children in need with enriching opportunities. Foundations which bring hope & happiness to children include:
Longwood Foundation
Welfare Foundation
Bank of America Foundation
Laffey McHugh Foundation
Supporters
We would like to thank our financial supporters
Bank of America

Best Buy
Blue Cross/Blue Shield
DuPont
Pettinaro Relocation
ShopRite
WSFS
Support from individual donors
Members of the Delaware Community Foundation
A special thank you to area organizations that donate services which support Kind to Kids.
We appreciate your support!
Bank of America
Barnes & Noble
Belvedere State Service Center
Best Buy
Blue Cross Blue Shield
BJ's
Boy Scouts
Brandywine Hundred Fire Company
Cash Connect
Comcast News
Community News
Cosi
Costco
Court Appointed Special Advocates (CASA)
Cromwells Tavern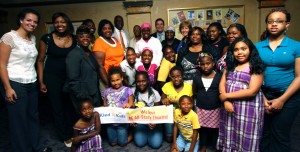 Delaware All-State Theatre
Delaware Children's Theatre
Delaware Department of Education
Delaware Department of Health and Social Services
Delaware Department of Services for Children, Youth and Families
Delaware Mounted Police
Delaware Police Department
Delaware Symphony Orchestra
Delaware Theatre
Dorey Nomiyama Photography
Dupont Corporation
Ed Weirauch Leadership Communications
Family Court of Delaware
John Feretti
Firefox Printing
Girl Scouts
Glazier Photography
Heaven and Health Massage
Hockessin Athletic Center
Hockessin Memorial Hall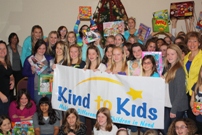 Jefferson Awards
Latin American Community Center
Luigi Ciuffetelli Photography
Macy's
M & T Bank
Miss Teen Delaware USA
New Castle County Community Centers
New Castle County Libraries
News Journal
NPowerDE
Pat's Pizza
PepsiCo
Philadelphia Phillies
Philadelphia 76ers
Police Athletic League
Pitbull Marketing Group
Pritchett Associates
Red Robin
The Right Idea Marketing Solutions
Rodel Foundation of Delaware
ShopRite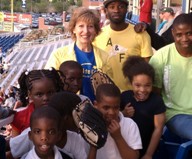 SWAP Productions
TD Bank
Tatnall School
Trader Joe's
Wilmington Blue Rocks
Wilmington Drama League
Wilmington Fire Department
Wilmington High School 60th Reunion
Winterthur Museum and Gardens
WITN Cable TV Channel 22
WJBR Radio
WSFS
Venues
Kind to Kids provides opportunities to area events and attractions for underprivileged children. The following list represents venues that children in need may attend through Kind to Kids. Corporations, organizations, service clubs, and individuals can donate tickets to brighten the lives of deserving children.
Amusement Parks and Centers
Bowling
Entertainment
Museum
Sports
Outdoor Activities
Orchards and Farms
Racetrack
Theater
Tours
Zoos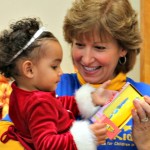 Caroline Jones
Founder & Executive Director
Welcome & thank you for your interest in helping children in need!
.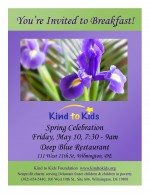 Click above photo to register today. Only a few tickets left - we will be SOLD OUT by today, Wed, 5/8!
Spring Celebration
Friday, May 10th, 7:30 - 9am
Deep Blue Restaurant
.
Make a Difference!

$500 LifeSkills for teen, 1 year $100 sends 20 children to events $20 -duffel bag for foster child $15 -CARE pkge for foster child $5 -buys a toy for foster child

.
.
Kind to Kids has sent
over 6,000 children
to events worth
over $95,000
in ticket costs.
.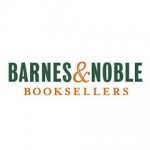 Thank you Barnes & Noble, Christiana Mall, who donated over 3,600 books to Delaware's foster children - giving the beautiful gift of reading!
.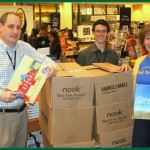 .
.
Visit us on facebook
Kind to Kids
facebook.com/KindtoKids
.