Programs & Services
Kind to Kids brings joy to children in need.

We give underprivileged children wonderful experiences with opportunites to entertainment, sports and cultural events, along with educational programs and supplies.

Learn about our services for children and how you can make difference.
Programs
Give JOY
Poverty is so much more than a lack of wealth, it is also a lack of experiences. A child in poverty dreams about what it would be like to attend a sports game, a play, or a music performance… Kind to Kids makes these dreams come true.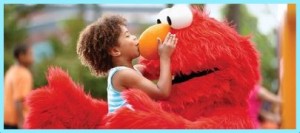 Kind to Kids expands their horizons by showing them the beauty of the world around them.
Children are filled with joy to attend their very first Blue Rocks baseball game,
Delaware Symphony event, visit to Sesame Place, Longwood Gardens, Philadelphia 76ers game, or a delightful Delaware Children's Theatre performance.
Since we began in 2008, we have partnered with area venues to provide opportunities for over 5,000 children, to attend events valued at over $80,000 in ticket costs. Like Make-A-Wish, Kind to Kids gives deserving children the opportunity to expand their world and discover new possibilities. Kind to Kids is the ONLY organization in Delaware that focuses on giving event opportunities to underprivileged children.
.
You can help the children today.Your contribution,
no matter the amount, makes a difference!
Kind to Kids Foundation is grateful for contributions to honor the memory of loved ones, or for a special event.
.
LifeSkills Program

Less than 1/3 of foster teens in Delaware graduate high school and over fifty percent eventually become homeless.
Foster teens are children who have been beaten, abused and neglected and need to be removed from their home. Foster children are frequently moved from home to home. They do not have the benefit of adult guidance in a stable home that most of us take for granted. They miss the vital important life lessons.
Kind to Kids wants to change just that.
Kind to Kids LifeSkills educational program will prepare foster teens, ages 14 & 15, to lead self-sufficient lives and make positive choices. The program will consist of ten weekly workshops, which present vital topics such as money management, education, career, relationships, self-care, home life, and more.
These seminars will give young foster teens the skills they need to become independent adults.
LifeSkills Handout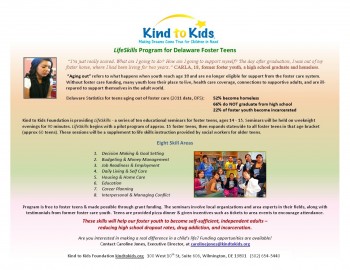 My Blue Duffel
It is traumatic for a child who was beaten, abused or neglected to be moved and placed in a new home with new people and new rules. They are frightened and scared.
To make things worse, their belongings are placed in trash bags.
You can imagine how it would feel to be told you must leave home and put your belongings into trash bags.The bags send an unspoken message, "this is trash," at a painful time in a child's life.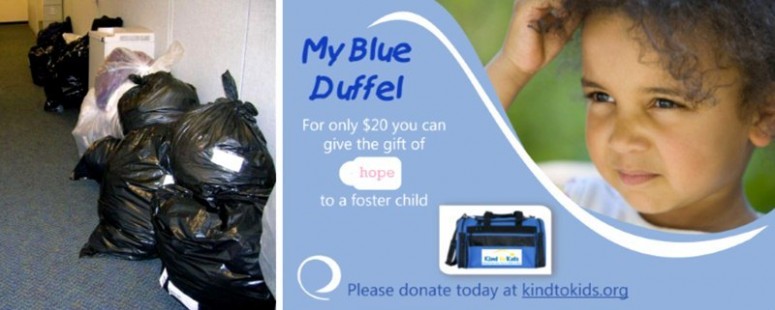 My Blue Duffel Program reminds foster children that they are loved.
Each foster child in Delaware received a blue My Blue Duffel bag PLUS a wonderful book of hope and inspiration & a hand-knit blanket.
Placed in each My Blue Duffel was a book of love, hope and inspiration… Dr. Wayne Dyer's "Incredible You" – donated by Hay House Publishers!
A beautiful and warm handmade knit & crochet blankets of comfort were also included, thanks to our friends at Kozy Kovers for Kids! We would like to place a warm blanket in every bag. To help make blankets, contact www.kozykoversforkids.org & bring comfort to a child in need.
We are so grateful to Bank of America and donors who have generously funded the My Blue Duffel program.
However, we need your support!
Buy donating $20, a child in foster care will receive a beautiful duffel bag
– and a reminder that someone cares.
.
Help A Kid TOY DRIVE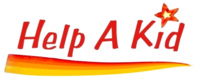 Imagine you are a child who was beaten, abused or neglected, and had to be taken from your mother and father and placed in a new home with new people and new rules. Even though you were safe from harm, everything was different. It was so hard to make sense of the painful changes in your life.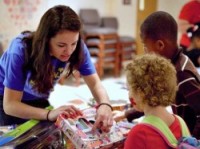 Now imagine how that child's face would look when he or she was told there would be no holiday gifts. Often foster face financial struggles in addition to caring for a busy family. Most family income is used to pay critical expenses. In some instances, families make difficult decisions about how to spend their limited funds. When this happens, other items, such as birthday gifts, school field trips, and holiday gifts, seen as less of a necessity are eliminated from the budget. But to a child, that one gift can make all the difference in the world.
You have an opportunity to help bring a joy to a child this holiday season. What seems a small effort to you is seen through a child's eyes as magical. Your help is critical. Often the staff members at social service agencies have little time to devote to collecting gifts for the families they serve.
Kind to Kids Holiday Toy Drive TIPS
Download this handout to learn how to conduct a Kind to Kids toy drive a your workplace, school, or organization.
YOU can organize a toy drive to benefit foster children in your community. The toys collected can be from few to many, depending on the time you have to designate to the project.
Bring joy to children who have no home to call their own. You can help by donating funds, or giving toys. For more information, contact carolinejones@kindtokids.org or call (302) 654-5440.