What's New
Kind to Kids brings joy and happiness to children who have experienced the pain and hardships of foster care and poverty
News & Events
Media
Press Releases
News & Events
Halloween 5K Run/Walk was a fantastic success!
Annie Coons, Honorary Chair
& Wife of U.S. Senator Christopher Coons,
Thanks you for your support of Delaware's children in need!
Businesses, community leaders, friends and families came out for this fun, exciting event and raised funds for the children.

Wonderful photos from the event posted on facebook – please LIKE us on facebook! facebook.com/KindtoKids
Photo credit: Dorey Nomiyama Photography

Thank you to our sponsors! Major Sponsors: WSFS, Best Buy, Hockessin Athletic Club
Sponsors: Carper for Delaware, Red Robin, Limestone Storage, Snack Factory, McDonalds, Pirate's Booty, Joe's Crab Shack, Firestone Craft Pizza, Big Fish Grill, AAA
Missed the race? You can still get your friends & family to support your fundraising efforts at
https://www.crowdrise.com/halloweenhoopla/
Can't attend, but want to help? Please donate!
The funds will help us to reach more children.
.
.
.
Thank you to UD's Residence Hall Honor Society!
UD residence hall leaders are creating change in our community. The NRHHS is working to get teams of UD students to run in the Halloween Hoopla 5k Run Walk. It is inspiring to meet with the next generation and feel their passion to make a difference to Delaware's children in need. Special thanks to Jenna and Nichole – We look forward to seeing NRHHS and friends at the Halloween Hoopla!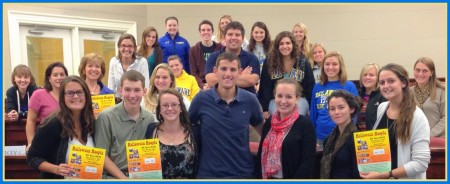 Kind to Kids presents to NRHHS about our services for foster children and children in poverty. What an amazing group of students!
Thank you to URS Corporation!
The generous staff at URS Corporation wanted to make a difference. They got together and donated wonderful backpacks – each loaded with fantastic school supplies – for students in the LifeSkills Program. What a beautiful way to impact the life of a youth in foster care! These 14 backpacks are an important and tangible reminder that someone cares.
Thank you Kathy Davis and all of our friends at URS for bringing joy!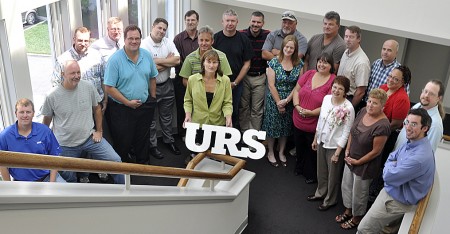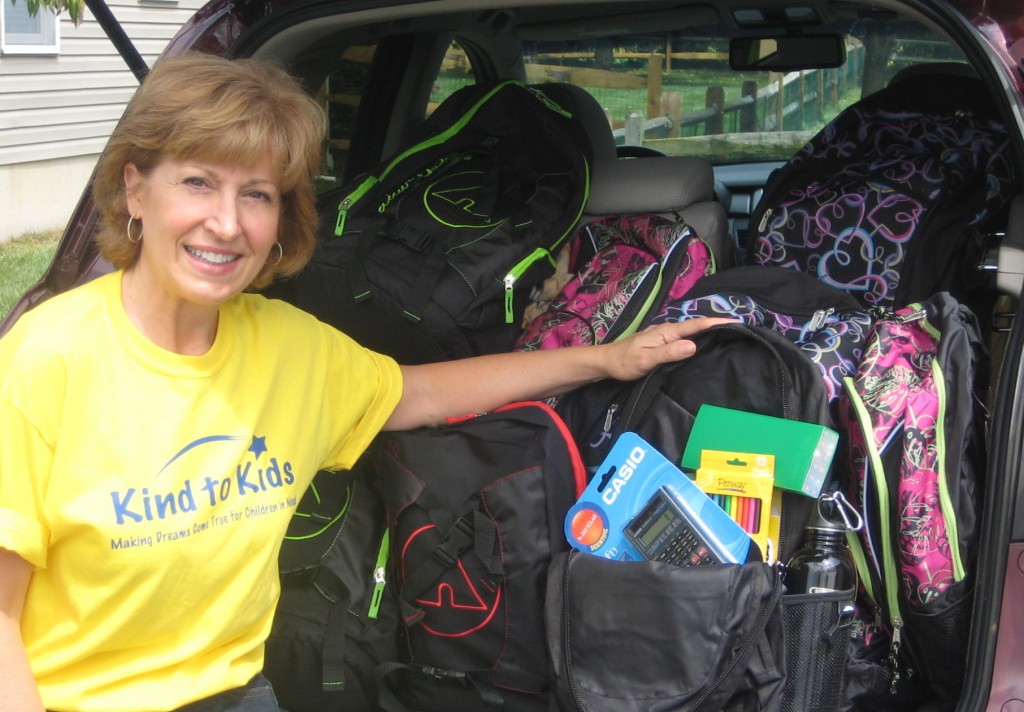 Caroline Jones is Commencement Speaker
Kind to Kids is proud to announce that Executive Director of Kind to Kids, Caroline Jones, was Tatnall High School's Graduation Commencement Speaker this past June. Kind to Kids is founded by two Tatnall graduates, Chris '09 and Catherine '11.
The Foundation was thrilled when Caroline was asked to give the commencement speech. Tatnall Upper School, a rigorous college preparatory program, is located in Wilmington, Delaware.
Caroline's speech focused on the lessons she has learned working with Delaware's foster children through Kind to Kids and as a CASA, a Court Appointed Special Advocate with Family Court of Delaware.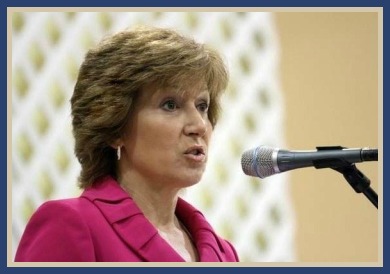 Caroline Jones gives the commencement address at The Tatnall School
Photo courtesy of Daniel Soto, The News Journal
"Working with foster children, I've discovered that many of us don't know how to like ourselves, let alone love ourselves." Caroline said. "The process of getting to know who you are begins with accepting everything about yourself. Understand that like foster teens, your circumstance do not determine your worth. Accept that you are a person of value. "
Caroline believes Tatnall has been a great factor in the development of Kind to Kids and is appreciative of the services and help they've provided the organization over the years.
This past holiday season, Tatnall donated enough toys for all of Kent and Sussex Counties for the Kind to Kids Toy Drive.
The graduation ceremony speakers included Headmaster, Dr. Ruoss, Upper School Principal, Sarah Baylin, and Kind to Kids Executive Director, Caroline Jones.
Media
Kind to Kids Foundation has been featured in TV, radio, magazines and newspapers.
We are grateful for the publicity, which helps to educate others about our mission to help foster children and children in poverty.
Caroline Jones, Executive Director, Press Conference,
Announcing "My Blue Duffel" Campaign, WHYY
No More Trash Bags for Delaware Foster Children
If you would like an interview, presentation, or more information, please contact Caroline Jones, Executive Director, at carolinejones@kindtokids.org or (302) 654-5440.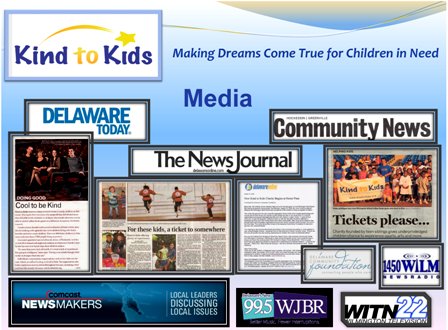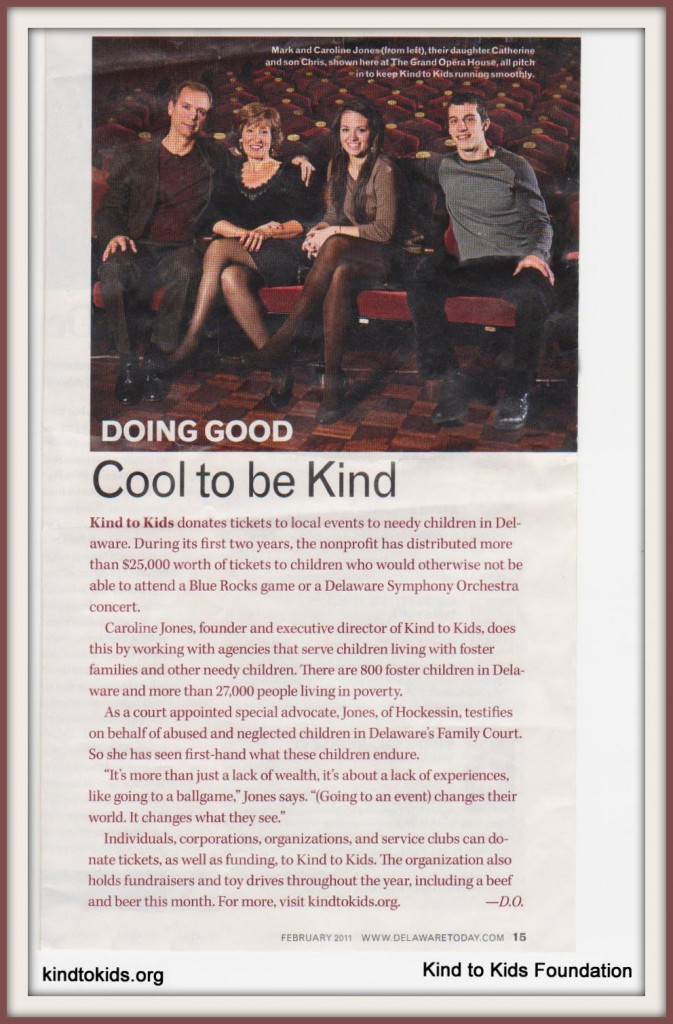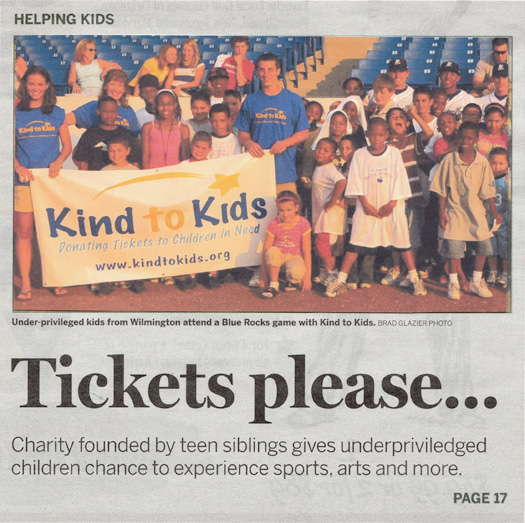 Click to read this full article in PDF format.
---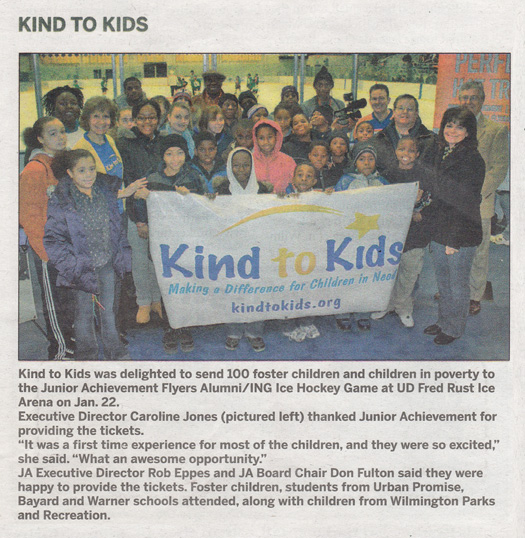 ---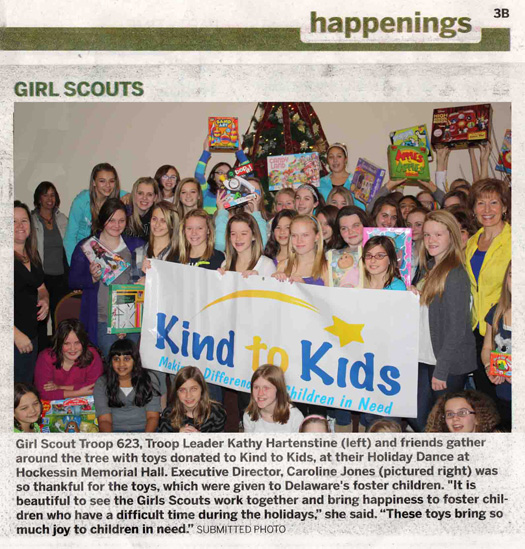 ---

For these kids, a ticket to somewhere
The News Journal – Wilmington, Del.
Author: KIM HOEY
Section: NEWS
Special to The News Journal
Wanaisha probably didn't have too many aspirations for college until she saw her first University of Delaware basketball game.
"You are role models for other kids. It's a blessing to come to the Hens' game. You're playing good defense, so when I grow, I will be following your footsteps in the college," she wrote in a letter to the men's team.
Wanaisha is one of hundreds of children living in poverty or foster care who got to see a little more of the world through a Delaware program called Kind to Kids.
Kind to Kids obtains tickets to entertainment, sports and cultural events. The tickets are then donated to nonprofit organizations and government agencies that work with underprivileged children. The program was founded with the vision to impart kindness and create a positive experience for children in need by providing opportunities to nourish their minds, program officials said.
It's also a way to brighten their future.
"When children are provided with positive opportunities like those offered by Kind to Kids, it often ignites their imagination and gives them hope," said Laura Miles, director of the Division of Family Services at the Delaware Children's Department.
"Think of a child who has a keen interest in music, but has never had the opportunity to experience a live performance," Miles said. "A Kind to Kids musical event at Longwood Gardens allows her to see just what her interest can blossom into and where it can take her."
It's also a way to remind children that someone cares, said Caroline Jones, director of the organization.
Jones helped found the program at the urging of her children, Chris, 18, and Catherine, 16. They were sitting at a basketball game when they realized there were many empty seats, seats they thought could be well used by underprivileged children. So they kept urging their mother to do something.
Kind to Kids was the outcome.
"It was like manna from heaven," said Rob Prestowitz, director of Urban Promise, a program to help young people in Wilmington. "Without exception, our kids have a special time. In most cases, they are experiences they never had before."
It started as a small idea, but has become a full-time job for Jones, with the help of her children and a cadre of volunteers. The more the group does, the more important Jones realizes it is.
"People say, 'Oh you're just taking them to a game,' but it's so much more than that," said Jones, who pointed out that poverty is more than a lack of wealth. It's a lack of interaction and social experience as well. "These are kids who never get to go. We are making them part of the community."
Participants in the program have gone to sporting events, concerts, ballets, amusement parks and zoos. They've taken special tours of places, played and participated in festivals and events all over Delaware and surrounding states. The price of admission is an evaluation from the ticket giver and receiver, and a thank you note from the recipient.
"You read some of them and you're just — oh, my gosh," said Jones, who said she's seen more than one light go on inside a child at one of the events. She's also heartened by the generosity of people and venues that donate.
"Everyone remembers what it's like when you're a child and don't fit in," she said. "They can empathize."
Many of the tickets are donated from the venues, but there are plenty of individual supporters.
After explaining the program to a scout troop one day, one of the adult chaperones came up and handed Jones $100 saying he had been a foster child who would have benefited from the program.
"I get to see the best of what Delaware has to offer," said Jones of the people who donate and the children who benefit.
FYI
The program is always looking for donations of tickets to events, but financial support, transportation to events and volunteers also are needed.
For more information, visit www.kindtokids.org or call 654-5440
---
Press Releases