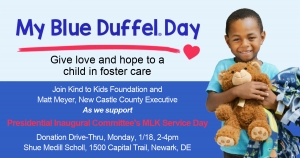 Join Kind to Kids and Matt Meyer, County Executive
My Blue Duffel Event
A member of the Presidential Inaugural Committee's
Martin Luther King, Jr. Service Day
My Blue Duffel emergency care kits help children who are entering foster care and coping with trauma. Join Kind to Kids Foundation and Matt Meyer, New Castle County Executive to bring love and comfort to a child who is entering foster care!  Two ways to help:
Drive Thru: Shue Medill School Drive-Thru on Monday, 1/18, from 2-4 pm. Donate new teddy bears and stuffed animals, fleece blankets, and/or coloring books and crayons. We will place the donated items in our My Blue Duffels.
Virtual: Donate to the My Blue Duffel Wish List via our nonprofit Amazon.com link: http://bit.ly/MyBlueDuffelK2K. We will give a child who is a victim of child abuse, neglect and trauma a duffel in your name. 
The duffels are distributed statewide to foster care offices, hospital emergency rooms and first responders.